MacKiDo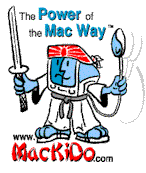 The purpose of this site is to explain Mac technology, counter misinformation, provide entertaining and thought provoking articles, and host a series of useful reference resources.
It has evolved steadily over the years. Although much of the key content was created during the nineties, much of this remains relevant, and thus retains its place on the site. History, however, is a major aspect, and a whole section is dedicated to it. The phrase "study the past to tell the future" certainly has a ring of truth in it.
Contents
The contents of Mackado, which span many hundreds of pages, are organized into sub-sections. These include: Advocacy, How To, Reference, Markets, Museum and News. Although all these areas are well established, the one which will expand most quickly in the future is the reference section, which will include a variety of resources which may be of use to Mac users and indeed, computer users at large.

All the sections of MacKiDo can be accessed via the navigation bar on the left hand side. Enjoy!



Reference Standards
We have recently brought on board a reference catalogue of international standards. This is the first of several major catalogs we will host, bringing a range of IT resources to your fingertips.
| | | | |
| --- | --- | --- | --- |
| Site Info | Standards | General | Contacts, Etc |